The Turkish bath - Istanbul Hamam Experience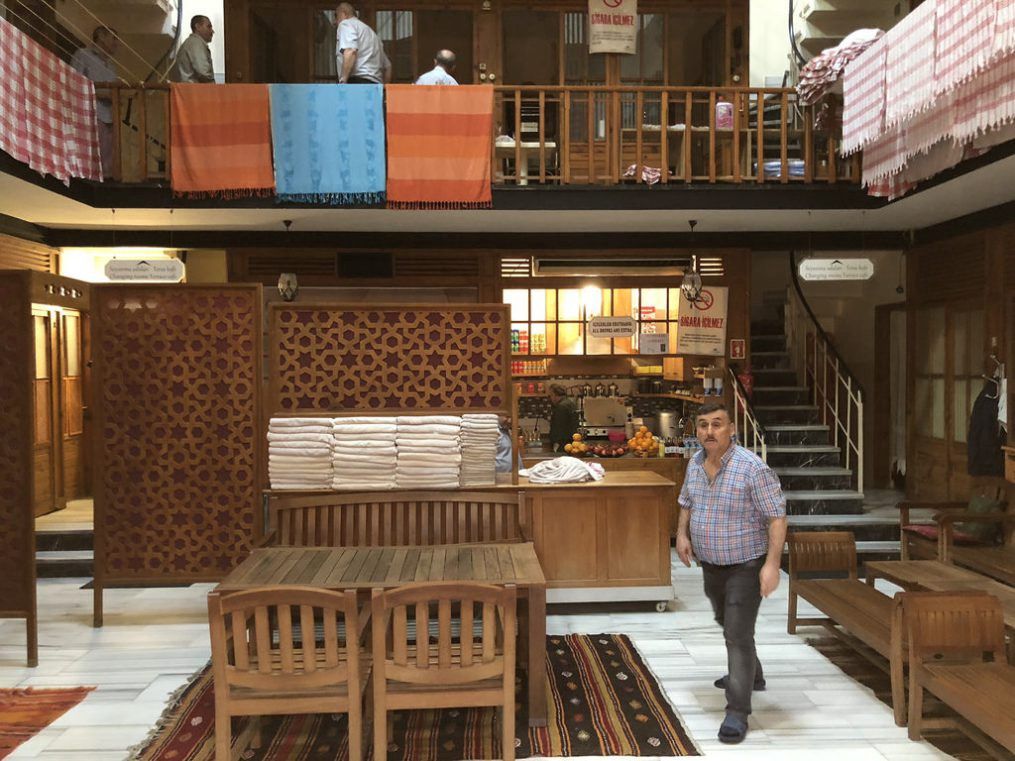 One of the questions that a traveller has to inevitably make in Istanbul is whether a traveller should do the Turkish Bath/Hamam experience.
The answer is a definite yes.
Types of Hamam
You have a choice between many types of Hamams — traditional (Cemberlitas Hamami), traditional-converted-to-ultra-modern-spas(Aya Sofia Hamami) or the ones connected to your hotel (Pierre Loti Hamami). Most require an upfront reservation so please do check their website before going in. Spend some time researching each on TripAdvisor but then just do it. We were originally planning to head to Cemberlitas and then read unflattering reviews on Tripadvisor and decided to walk to Aya Sofia and were turned away because of no reservation. Frustrating, primarily because the Ayasofia website was down the 4 days we were in there. This was a blessing in disguise because Cemberlitas entertains walkins, is cheaper and had more services and we loved the Cemberlitas experience! My recommendation would be to choose a traditional Hamam experience because they do transport you into a bygone era. Cemberlitas for example, was setup in 1524. You cannot help but think of all the people who have been through the Hamam over the ages.
Men and women go separate. There are some Hamamis (Cagalogou) that has different timings for men and women. Most others had two different baths for men and women. Cemberlitas for one had two different baths.
The Hamam Experience
I chose the Traditional experience with an Indian head massage at Cemberlitas. The Indian head massage is only offered at Cemberlitas. They gave me two plastic tokens to carry into the Hamam. I walked into the Hamam, I was handed a towel (called Pestamal) and I changed into the towel and walked into the Hamam. I also handed a scrubber — more later. I then, passed through a entrance room which had a few basins of water and was led into the actual hamam room. The room itself must be about 3000 square feet and I think octagonal. There were basins at about every 5 feet along the edge of the room. The focal point of the room and experience is a huge marble platform in the center where other men were lying down. I was asked to lie down and sweat it out and sweat out I did. Ten minutes into the sweating process, Hakim, my hamami guy (someone in his late 50's) came in and started scrubbing me with my scrubber. Man — this gentlemen scrubbed me down good. He then pulled out a small copper basin which had foam soap in it and scrubbed me with the soap. He then repeatedly walked over to the basins on the edge, pick a big bowl of water from the basin and poured it over me. I love warm water and this felt good. He then walked me out to the smaller entrance room and sat me down and washed my head really good. We walked back into the main hamam where he washed me again. We then walked out where he handed me to the massage guy. So Hakim made sure that I knew his number tag for a tip later on. My wife's experience was a bit sweeter where her attendant sang a Turkish song to her while she went through the experience.
Recommendation: Traditional or Self Service?
The self-service option was high on my list. I suppose it is for people like me who are uncomfortable with other folks touching me — let alone giving me a bath. That though is not the authentic experience. I would highly recommend choosing a traditional massage over a self service experience.
The Indian Head Massage
The Indian head massage that I envisioned was a gentle experience but this experience was rigorous. The masseur found a couple of trouble spots on shoulder and neck and went at them to the point that I screamed a few times and tried to stop or take a pause. Taking a pause was not on my masseurs agenda and I was pushed down and he went after those points with gusto. Thirty minutes later, I was a new man with my neck, face, ears and shoulders massaged to happiness. My wife's experience differed here where she was given a full body massage.
Post Hamam Experience
After, the head massage, I was pointed to cold showers where I took one and then walked into the Hamam to relax. I must've spent about 15–20 minutes relaxing here. I walked out and someone wrapped me in a towel and checked into my changing room. I walked out handed tips to the two gentlemen (about 20 TL each) and sat down in the beautiful foyer area to wait on my wife. I had a nice cool Ottomon Sherbet here and I must say that really put a small bow on the experience itself.
About Cemberlitas
The Hamam itself was extremely clean and I would call it functional. It wasn't fancy as compared to pictures of some other Hamams. I saw locals in here and not tourists (scared away because of trip advisor?) in my short time here.
Hakim and the masseur spoke very little english and that made the experience authentic for me.
Recommendation
The Hamam experience stood out to me as one of the top experiences in Istanbul. My tiredness of walking up and down the streets dissolved away at the end of the experience.
I would highly recommend doing it.
As for me, if I make it to Istanbul, I am going to do it on the first day to get rid of the travel weariness and the last day to walk out of Istanbul completely relaxed.